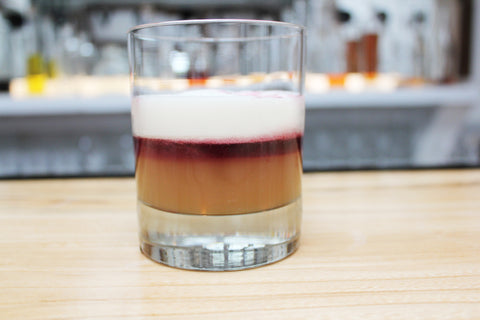 In December, we hosted a large dinner with James Beard Nominated Chef Rob Connoley, the author of Acorns & Cattails: A Modern Foraging Cookbook. The dinner was great but the cocktails certainly held their own. That's because, in order to create the cocktail pairings, Connoley teamed up with Patrick Abalos, a talented barkeep at Side Bar in The Woodlands, Texas. Patrick introduced some incredible cocktails to the meal that night, one of which was the "Portside Express" [pictured right]. This drink combines two of the best spirits to enjoy with any cigar: whiskey and port. We think you'll also find it goes extremely well with our blend this month, the 2010 Bourbon Stave.
"The Portside Express" (AKA Red Rooster Variation)
Ingredients:
1.5 oz Angels Envy Bourbon
1 oz Fresh Lemon Juice
1 oz House Rich
.75 oz Egg White
Float LBV Port
Tools:
Cocktail shaker
Ice
Blender
Lemon squeezer
Glass: Low Ball
Garnish: Housemade Brandied Cherry
Build: Dry/Dry Shake/Wet Shake
Method
To make the "House Rich" simple syrup:
Combine 1 part white sugar, 1 part brown sugar, and 2 parts water in a home blender. Blend until the sugar is dissolved. 
To make the cocktail:
Combine everything but the bourbon in the shaker. Close shaker. Dry shake (without ice) vigorously for 10 seconds. In a clean large tin, add fresh ice to the top. Pour entire mixture including bourbon into ice. Top again. Shake vigorously for 5 seconds. Double strain into lowball glass. Pouring a small amount of port of the back of a spoon above the drink, float the LBV port on top of foam.
To make the housemade brandied cherries:
purchase fresh cherries. pit them. Mix with brown sugar and brandy until moist. Let sit for a few days in refrigerator. The longer the sit time, the better they become.